THE URBAN CHARM
THE URBAN CHARM IS A DESIGN AND BRAND DEVELOPMENT BOUTIQUE COMPANY SPECIALIZING IN CREATIVE DIRECTION, CONSULTING & MARKETING SERVICES, PRIVATE LABEL AND LIMITED EDITION JEWELRY COLLECTIONS WITH AN EMPHASIS ON ETHICAL MANUFACTURING SOLUTIONS HANDCRAFTED IN THE USA. OUR MISSION IS TO CREATE EXCLUSIVE COLLECTIONS THAT REFLECT THE HANDMADE ARTISTRY AND CRAFTSMANSHIP OF OUR TALENTED ARTISANS AND PROVIDE ENTREPRENEURIAL OPPORTUNITIES FOR THOSE WANTING TO CREATE THE LIFESTYLE OF THEIR CHOOSING.
jewelry for every occasion and style
BOHO VIBES
Jewelry for the free spirited and light hearted.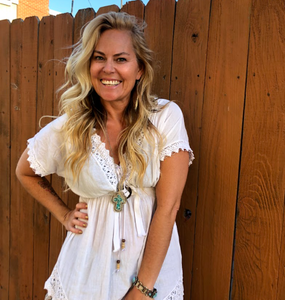 MEET THE FOUNDER, LANI HARMONY
Lani Harmony specializes in many forms of media including drawing, painting, graphic design, product development, jewelry design, ceramics and sculpture. Her work reflects originality, craftsmanship, and attention to detail which have earned her prestigious awards such as the "Best of Palm Desert", Jewelry Designer of the Year; North American Excellence Award -"Best Woman-Owned Jewelry & Accessories Design Company - USA"; and she was recently nominated for the CEO Today Magazine Global Awards. Her art and jewelry designs have been featured in blogs, newsletters, museums, galleries, TV shows "America's Next Top Model", "The Last Kingdom", movies "Lineage", restaurants, salons, boutiques and magazines. Her biggest passion is custom work and having the opportunity to design and consult with amazing artists, designers and brands. Lani says she chose the name The Urban Charm for her brand because of her love of city living and appreciation for the charms of life.
Testimonials
⭐️⭐️⭐️⭐️⭐️

I've been working with Lani on several branding projects for getting pieces prepared for my company launch and have only wonderful things to say. Lani is a pleasure to work with, creative, and a critical thinker with problem solving. You're in good hands with Urban Charm!

Daniel Davis
⭐️⭐️⭐️⭐️⭐️
Positive: Professionalism, Quality, Responsiveness, Value, 5 star Review. Lani is incredibly talented, professional and so collaborative. She understood what I needed but elevated my ideas to something I couldn't even imagine!

Sweet Spin
⭐️⭐️⭐️⭐️⭐️
I love the uniqueness of The Urban Charm. You will always have that one of a kind piece. I love supporting local artist, Urban Charm is my go to for all my fashion jewelry needs.

Annie Mekertichian